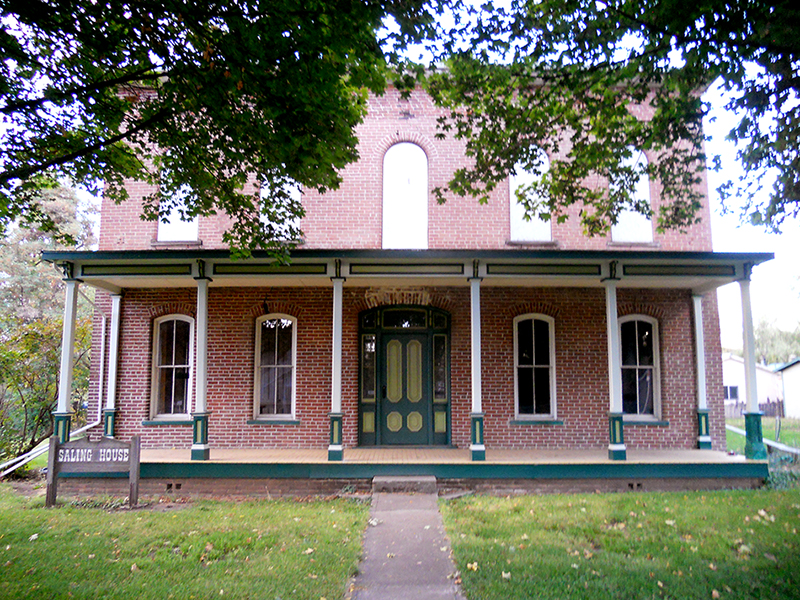 Historic Weston Oregon Resources and history of Weston, Oregon.
Sanborn insurance maps, information about the Commercial District, searching for historic properties, and more.
Isham Saling House The Isham Saling House, built in 1880, is the largest historic brick house in Weston, Oregon—a town with unique historical distinction.
Blue Mountain (Kees) Cemetery Andrew F. Kees was born in Washington Co., Pennsylvania in 1817 and died in Umatilla Co., Oregon in 1886. In 1860, he married Nancy Osborne (a survivor of Whitman Massacre) and they settled 2 miles south of Weston. From his farmland Mr. Kees deeded 1 and 9/16 acres for a cemetery site in 1875.
Commercial Weston Historic District Information and maps of the commercial district.
Oregon Heritage – State Historic Preservation Office (SHPO)
Restore Oregon Restore Oregon's mission is to preserve, reuse and pass forward the historic places and spaces that reflect Oregon's diverse cultural heritage and make our communities inclusive, vibrant, liveable and sustainable.
A Layman's Guide to Historic Preservation Law A Survey of Federal, State, and Local Laws Governing Historic Resource Protection By Julia H. Miller
Preservation Action – Preservation Action is a 501(c)4 nonprofit organization created in 1974 to serve as the national grassroots lobby for historic preservation. Preservation Action seeks to make historic preservation a national priority by advocating to all branches of the federal government for sound preservation policy and programs through a grassroots constituency empowered with information and training and through direct contact with elected representatives.
National Trust Foundation Resources for Historic Preservation
Nominating your Historic Property and Searching for an Historic Property
The National Register of Historic Places is the official list of the Nation's historic places worthy of preservation. Authorized by the National Historic Preservation Act of 1966, the National Park Service's National Register of Historic Places is part of a national program to coordinate and support public and private efforts to identify, evaluate, and protect America's historic and archeological resources.

The Secretary of the Interior's Standards for the Treatment of Historic Properties
The Guidelines are intended as an aid to assist in applying the Standards to all types of historic buildings. They are not meant to give case-specific advice or address exceptions or unusual conditions. They address both exterior and interior work on historic buildings. There are four sections, each focusing on one of the four treatment Standards: Preservation, Rehabilitation, Restoration, and Reconstruction. Each section includes one set of Standards with accompanying Guidelines that are to be used throughout the course of a project.
Technical Preservation Briefs (By Topic)
Technical Preservation Services has compiled this index to assist users in finding the online and printed information that has been developed on the subjects of historic preservation and the rehabilitation of historic buildings. The index is arranged alphabetically and topics are cross referenced where appropriate.
Advisory Council on Historic Preservation
The ACHP promotes the preservation, enhancement, and sustainable use of the nation's diverse historic resources, and advises the President and Congress on national historic preservation policy.
Preservation Directory Welcome to PreservationDirectory.com – the online resource for historic preservation, building restoration and cultural resource management in the United States & Canada. Our goal is to foster the preservation of historic buildings, historic downtowns and neighborhoods, cultural resources and to promote heritage tourism by facilitating communication among historic preservation professionals and the general public.
HistoricFunding.com The funding database includes money and financial resources for restoring old homes, historic commercial buildings, theaters, schools, government buildings and other structures.
A Guide to Researching the History of a House
If you live in a house that's more than a few decades old, it's natural to wonder about its history. Who built it, and when? Who lived there before you moved in? You might even wonder about the evolution of the home's structure, as well as any changes made to it over time. If you're thinking about starting a new project – or making one of the five major home repairs your house typically needs as it ages – you may find it especially useful.

Restore Your Wood Windows! Yes, your neglected and deteriorated wood windows can be restored and made as good as the day they were new! With new weather stripping and storm windows, they can be as efficient as modern insulated glass windows. Historic wood windows were made to be repairable – unlike modern windows. With maintenance, these windows will now last another century or more. Replacement windows would be good for 25-30 years at best and then would have to be replaced again, and again, and again. You can find a nation-wide directory of window restorers on the Window Preservation Association's website: https://windowpreservationalliance.org/