Celebrating Historic Preservation Month during May!
Regret goes only one way. The preservation of historic buildings is a one-way street. There is no chance to renovate or to save a historic site once it's gone. And we can never be certain what will be valued in the future. This reality brings to light the importance of locating and saving buildings of historic significance―because once a piece of history is destroyed, it is lost forever.
From "Six Practical Reasons to Save Old Buildings" by Julia Rocchi https://savingplaces.org/stories/six-reasons-save-old-buildings#.YjwN–fMJD8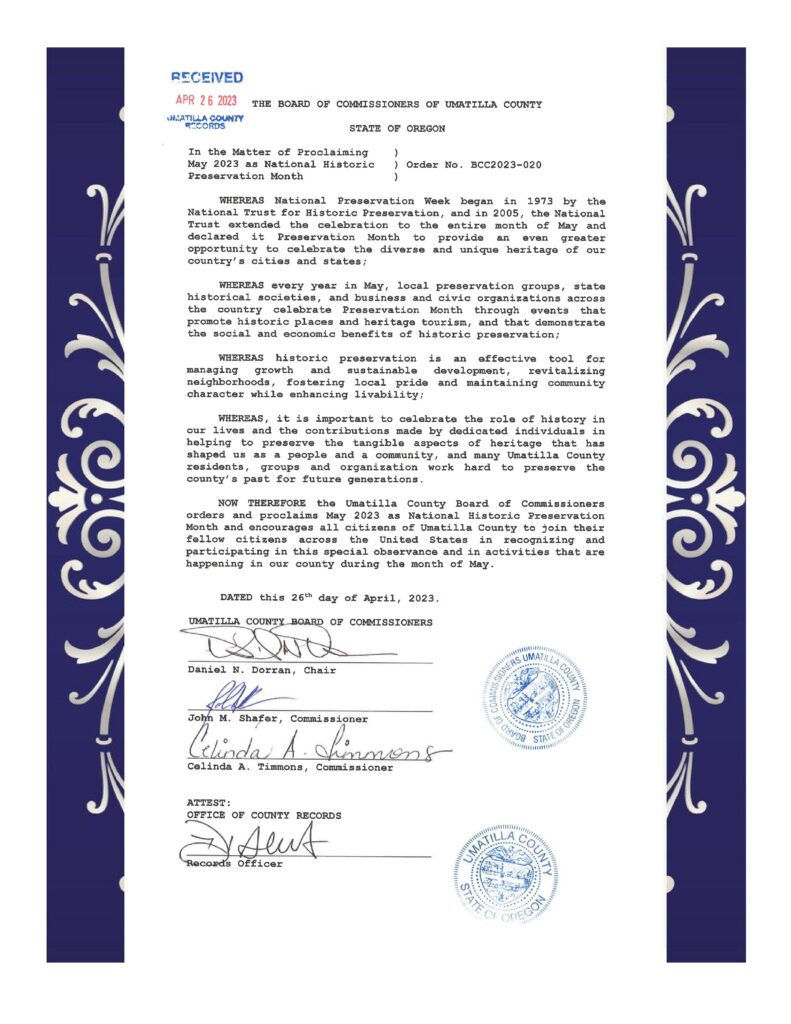 Established in 1973 by the National Trust for Historic Preservation, the event is co-sponsored by local preservation groups, State historical societies, business and civic organizations across the country. During the month of May many events are planned to promote historic places for the purpose of instilling national and community pride, promoting heritage tourism, and showing the social and economic benefits of historic preservation. Thousands of people participate annually in Preservation Month celebrations. Please check back on April 30, 2023 to see all of the activities that we have planned!
Window Signs/Selfie Signs
Saving Places
Tell the Full Story
Show Some Love
Historic Building
Take an Historic Selfie Explore your local community or around the state to learn about the people, places, and events that shaped Oregon and your community. Take a selfie in front of your favorite historic site or building with any of the signs. Be sure to email them to us, too!
Historic Downtown Architectural Scavenger Hunt Pick up the flyer or download it and then go match the photo detail and write down the address. There will be prizes! This is a fillable form so you can email it. There are 12 prizes. If there are more than 12 correct entries, those entries will be placed in a drawing. Winning entries will be drawn until there are no prizes are left.
31 Ways to Celebrate Historic Preservation Month We spend all year advocating for places that matter. During Preservation Month we flex our preservationist muscles and set aside time to celebrate and explore historic places in innovative ways. This May, Weston Area Development Development Association needs your help. Complete the items on the action list below and let us know when you do by tagging #SavingPlacesWestonOregon. We can't wait to see what you accomplish!
Walking Tour Brochure These will be available at locations in downtown during May. The brochure is on legal size paper.
Historic Building Presentation via Zoom There will be presentations on local historic buildings/sites during May.
~Isham Saling House Presentation May 6, 2023 live on Facebook at 1pm PT. Link to Video: https://youtu.be/kNws0whRHdk